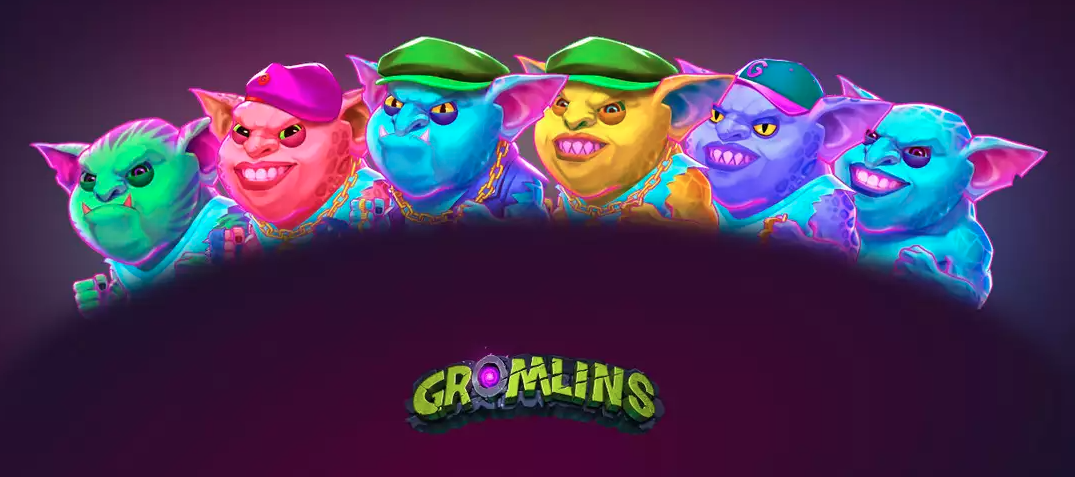 In the shadowy depths beneath the neon-lit streets of the dystopian city of NOVA, a unique and mischievous creature was born: the Gromlins. These enigmatic beings have captured the imagination of the web3 gaming community since their introduction by creator Justine Cruz in September 2022. As part of the Raresama launch, Gromlins represent a fascinating blend of sinister aesthetics and playful antics.
With 3,333 Gromlins originally released, each creature boasts its own unique attributes and rarity levels. As a token of appreciation for their support in building the future of web3 gaming, these one-of-a-kind beings were airdropped to key members of the Moonsama, Raresama, and EXO communities.
Despite their menacing appearance, Gromlins are mostly harmless creatures seeking fun and adventure. They follow a simple daily routine: hiding in the sewers during the day and emerging at night to explore the city, engage in playful fights, and search for love among the vibrant neon lights.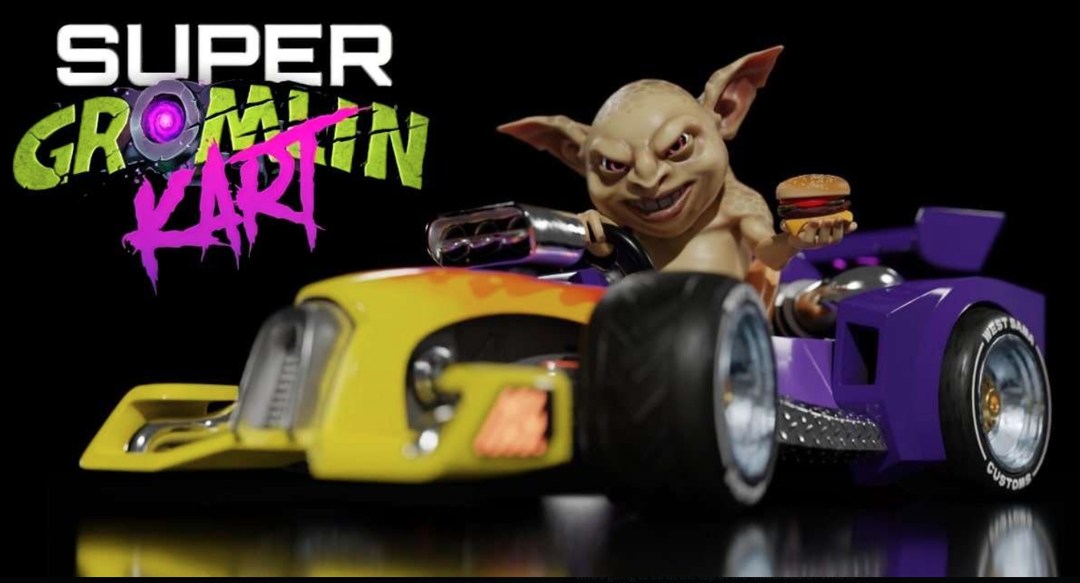 The Gromlin Racing Game is a thrilling experience that combines high-speed competition with innovative kart customization. As the first of its kind in web3, the game features a unique 3D customizer, allowing players to modify and shape their karts' appearance in the metaverse. By choosing from a wide range of features, including various colors, shapes, and accessories, players can create the perfect menacing look for their kart.
In addition to kart customization, the racing game enables players to use multiverse items as power-ups and race their Gromlins against other players through the vibrant, neon-lit streets of NOVA. The game will be linked to the Multiverse Portal, ensuring a seamless gaming experience without the need for external clients.
For the fortunate players who find a suitable match in the metaverse, the possibility of breeding a rare Baby Gromlin emerges. This exciting feature adds depth to the Gromlin universe and allows the community to grow and evolve, opening up new opportunities for fun and adventure.
As the Gromlin community continues to expand, so do the prospects for revelry and mischief in the world of web3. These extraordinary creatures herald an era of community, creativity, and competitive gaming like never before. With the ever-growing presence of Gromlins, the sewers of NOVA may never sleep again, and the metaverse will be forever changed by their menacing joy.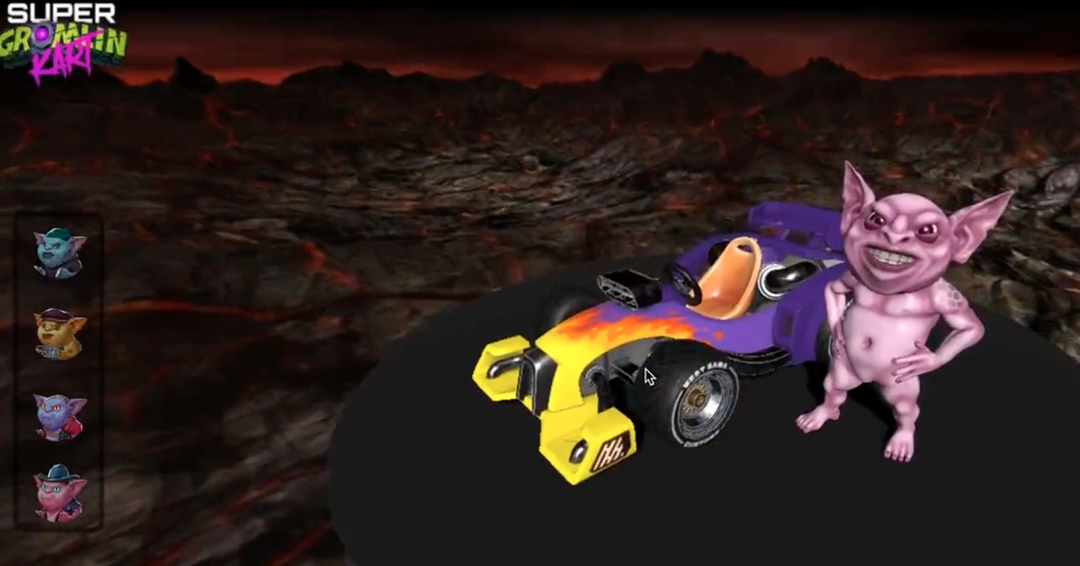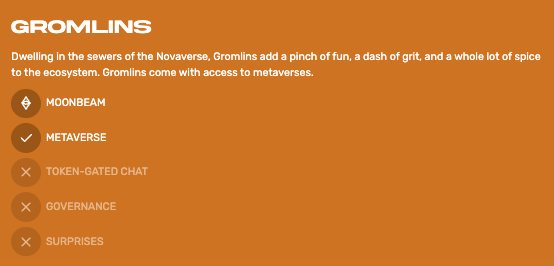 Own an Gromlin NFT to gain access to:
METAVERSE: Gromlin NFT holders can enter various metaverses and games within the Moonsama ecosystem, such as Carnage, Pondsama, Battle for Nova and more. They can also use their NFTs as avatars or assets in these metaverses.
UNIQUE GAME: Gromlin NFT holders have access to an exclusive Gromlin themed racing game. Players can customize their racer, use multiverse items as power ups and race against other players. The game is packed with fast-paced and adrenaline-fueled gameplay combined with Gromlin NFT assets. Featuring the first 3D customizer in Web3.
BREEDING: If two Gromlin NFT holders are able to find a match in the metaverse, they may be able to breed a rare Baby Gromlin NFT.
COMMUNITY: Holding a Gromlin NFT provides access to an active community of like-minded collectors and gamers.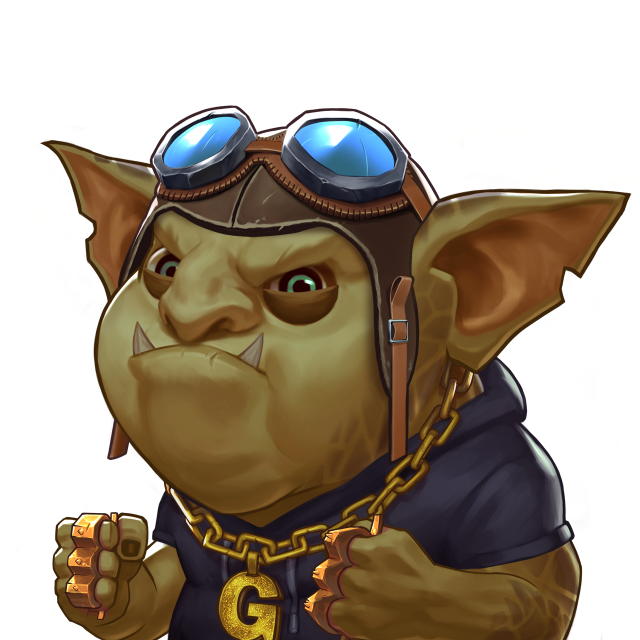 To buy a Gromlin NFT, visit the Raresama collection by selecting the button below (please make sure you're on the Moonbeam network at the top of the page):