Welcome to Exosama, our innovative NFT 2.0 collection launched on the Ethereum blockchain. As a groundbreaking part of the Moonsama Multiverse, Exosama offers a unique blend of digital assets and gaming, featuring 10,000 high-fidelity, composable EXO avatars.
Interoperability: Exosama avatars are designed to function on both the Ethereum blockchain and Polkadot.
Customization: Players can equip and evolve their EXOs with various outfits, weapons, hairstyles, and more, enhancing the gaming experience.
Access to Metaverses: Exosama NFT holders gain exclusive access to various metaverses and surprises within the Moonsama ecosystem.
Community Engagement: Join token-gated chats exclusive to Exosama holders at tokengate.exosama.com.
SAMA NETWORK: Participate in future staking initiatives and receive SAMA tokens as rewards.
METAVERSE: Enter various metaverses and games within the ecosystem.
TOKEN-GATED CHAT: Interact with other members of the community and the core team on Discord.
COMMUNITY: Access to an active community of like-minded collectors and gamers.
GOVERNANCE: Vote on important decisions and propose your ideas for the project.
SURPRISES: Enjoy surprises and rewards such as airdrops, giveaways, contests, and more.
1. First if you haven't an Exosama already, you'll need to purchase one from Opensea here https://opensea.io/collection/exosama-expect-chaos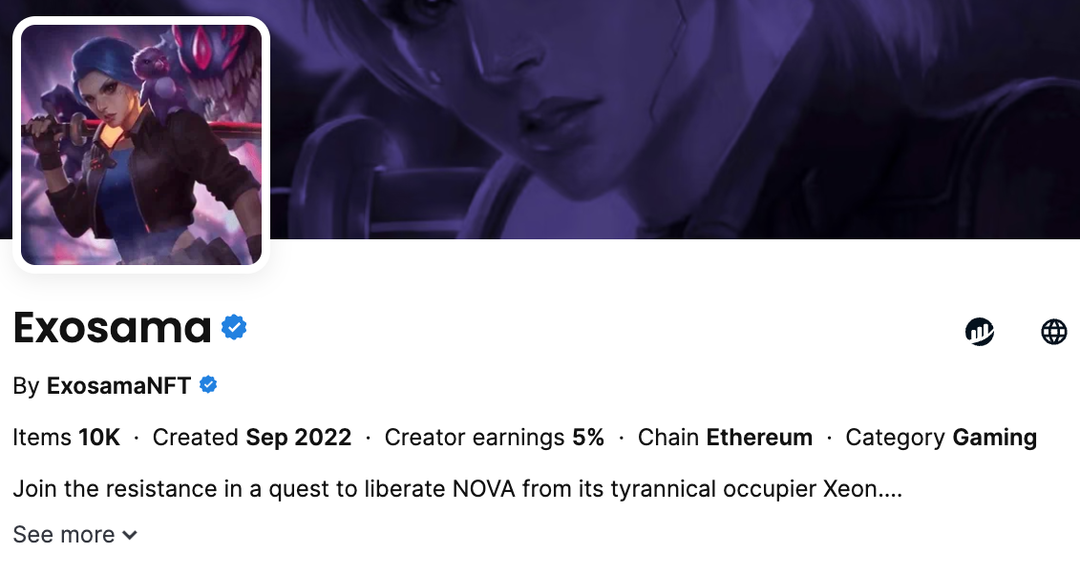 2. Join token-gated chats exclusive to Exosama holders at tokengate.exosama.com.
3. Next you'll need to bridge your Exosama into the Moonsama Multiverse Portal at https://multiverse.moonsama.com/. To learn more on how to transfer your Exosama into the the portal for metaverse gameplay please see:
---
Metaverse Quick Start
Customize your NFT
Instructions on using the multiverse customizer Customizer
Congratulations on joining Moonsama!! By following the steps above you're now all set to discover more in the ecosystem and explore the wiki further - Enjoy!
---
---